In March and April I traveled to Turkey for about 5 weeks for a "Workation". I traveled by train and bus through Turkey, worked from the road and discovered many places. Among others I was in Side, Antalya, Izmir and Istanbul. I had chosen Turkey because of the pleasant climate on the Mediterranean Sea even in the spring months. In addition, traveling in Turkey is still quite cheap compared to other European countries. Here is my Turkey train travelogue.
If you want to explore Turkey, the train is a good choice and offers a comfortable and relaxed way of traveling through the country. The train network in Turkey is relatively well developed. Major cities and regions are well connected. Whether you want to admire the breathtaking landscapes, visit historic cities or just enjoy the ride, train travel is an ideal option. Only along the Mediterranean coast, unfortunately, there are no trains and you can take a bus.
Train Travelguide for Turkey
Working online in Turkey works flawlessly. In every accommodation I stayed in, the wifi was fast and stable. In the larger cities there are also some co-working spaces or you can go to a cafe to work.
My Turkey train travelogue
Arrival: Night train from Vienna to Bucharest and Istanbul
Already my journey to Turkey is an adventure. It begins at the Berlin train station, where I board the ICE to Vienna and make a transfer to the night train to Bucharest.
I had purchased a ticket for the night train from Vienna to Bucharest four weeks in advance. The train departs from Vienna daily at 19:42 and arrives in Bucharest the next day at 15:05.
If you need more information about the train, you can find it here:
Night Train from Vienna to Bucharest
Travelogue: Vienna to Bucharest night train
After spending a night in Bucharest, I head back to the train station and catch a train to Plovdiv. Initially, I take a regional train to the border town of Russe. The train resembles a typical German regional train, albeit a bit outdated.
Upon reaching the border crossing in Russe, the Romanian border police collects all passengers' passports. The process takes around 30 minutes before the journey resumes. On the Bulgarian side, the same procedure repeats itself. Here, the Bulgarian border police also collect all passports, and you have to wait until yours is returned.
Once I retrieve my passport, I change trains in Russe and continue my journey to Plovdiv. Since train tickets in Bulgaria are incredibly affordable, I opted for first class. However, expectations should be managed accordingly. The first-class compartment consists of two facing benches with a total of six seats. The trains themselves may be a bit dirty and outdated, but they do have power outlets, and you can open the windows to feel the breeze.
More information about trains in Bulgaria
I arrived in Plovdiv at night and have a three-hour layover at the train station before boarding a night bus to Istanbul. Typically, there is also a night train from Bucharest to Istanbul, but it only operates from June onwards. Flixbus offers a daily direct connection from Plovdiv to Istanbul.
Please note: The information provided is subject to change, so it's always a good idea to double-check the train and bus schedules and book your tickets in advance.
Istanbul captivated me from the moment I arrived. It truly is an enormous city. I decided to take the subway to reach my hostel located on the Asian side of Istanbul. The Hush Hostel is situated in the vibrant and trendy district of Kadiköy. While there may not be as many famous landmarks in this area, it offers a more relaxed atmosphere away from the bustling crowds. Additionally, it's conveniently located near the Söğütlüçeşme train station, making it an ideal starting point for my journey the following day.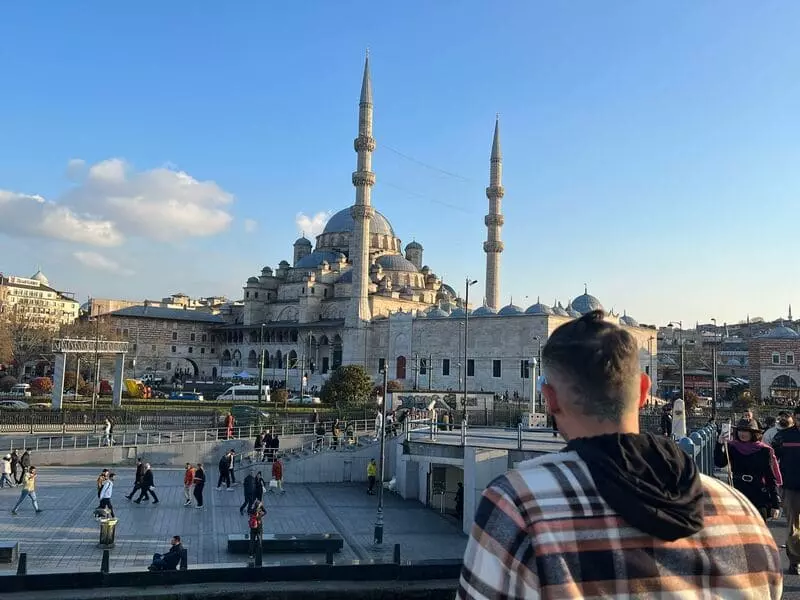 Traveling from Istanbul to Side
Unfortunately, there is no direct train connection from Istanbul to Side. To reach Side by train, I first took a train to Konya. The train journey from Istanbul to Konya usually takes around 4 hours and 50 minutes, with ticket prices averaging around 12 Euros.
From Konya, I have to switch to a bus to reach Manavgat. I recently booked my bus tickets online through FlixBus. Do not look for a green Flixbus, the most busses are blue and operated by the comapny Kamil Koç. The bus ride takes approximately 4 hours and takes me through picturesque snow-covered mountains until I finally arrive in Manavgat. After I reached the Manavgat bus station, I took a taxi to my hotel in Side. 
Side is a popular resort on the Turkish Riviera. There I spend time on the beach, explore the old town and ancient ruins. In March, unfortunately, it is not yet warm enough to swim. But most of the time the sun is shining and I enjoyed walking along the beach.
My accommodation in Side: Nar Apart Hotel
To get from Side to Antalya, I took a cab from the hotel to Manavgat bus station. From there I took the bus to Antalya. The bus is a very cheap option to travel from Side to Antalya. You can buy your ticket at the bus station.
I instantly fell in love with Antalya and felt right at home. The stunning turquoise sea, accompanied by the majestic backdrop of mountains, welcomed me with open arms. I found a charming accommodation in the historic old town that provided a comfortable space for me to work.
One of the highlights of Antalya is its incredible food scene, offering delicious meals at affordable prices. During my visit, it happened to be the month of Ramadan. In the park, a bustling bazaar was set up, featuring a variety of shops and food stalls. I took this opportunity to indulge in various Turkish delicacies, savoring the flavors and immersing myself in the vibrant atmosphere.
My accommodation in Antalya: House of Good Things
After enjoying a fantastic week in Antalya, I decided to embark on the next leg of my journey and head to Pamukkale to witness its breathtaking limestone terraces. To reach Pamukkale, I opted for a bus ride from the Antalya bus station to Denizli.
Upon arriving in Denizli, I took a convenient minibus that transported me directly to Pamukkale. Surprisingly, the minibus fare was incredibly affordable, costing only 20 Turkish Lira (approximately 1 Euro).
I found an affordable hotel in Pamukkale for a one-night stay, allowing me to fully immerse myself in the beauty of the limestone terraces. These natural formations are truly breathtaking. However, Pamukkale is not only renowned for its terraces; it also boasts the ancient city of Hierapolis, which once flourished in this very location. I eagerly explore the remarkably preserved ruins, marveling at the ancient theater and becoming captivated by the rich history of this fascinating region.
On my way back to the hotel, I stumbled upon a charming little restaurant called Osmanli Restaurant. The food served there was absolutely delightful. I highly recommend trying their lentil soup and Lahmacun – a traditional Turkish dish.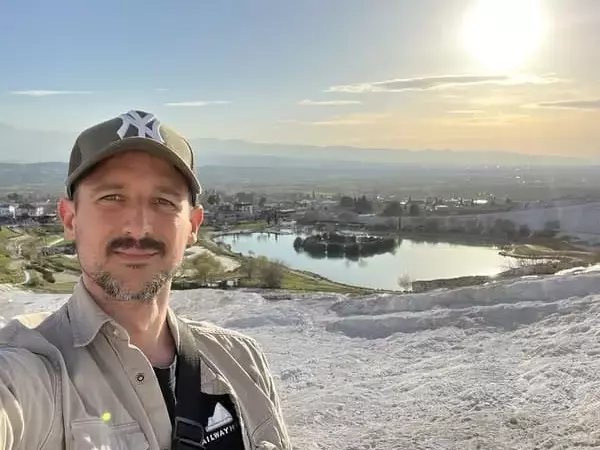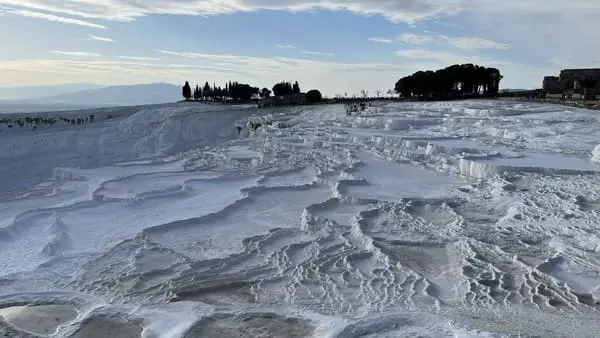 The next morning my train journey through Turkey takes me far to Izmir. After breakfast I first take the minibus to Denizli and from there I continue by train to Izmir.
Night train Izmir to Istanbul
There is no direct night train from Izmir to Istanbul. Therefore, I booked an online ticket for the night train in the direction of Ankara and got off in Eskisehir. From there I continued with a regular fast train to Istanbul.
I bought the tickets online on the Turkish Railway Website.
Find out more how to travel from Izmir to Istanbul on our Turkey Train Travel Guide.
Oh Istanbul! This city has so much to offer that I don't even know where to start. The colorful bazaars, the impressive Topkapi Palace and of course the famous Hagia Sophia are just some of the highlights in Istanbul. I visited the huge Grand Bazaar, the colorful Balat district and walked along the most famous shopping street "Istiklal" to Taksim Square.
Night train Istanbul to Sofia
At Istanbul Halkali station, I spontaneously decided to purchase a train ticket for the night train to Sofia. Luckily, I managed to secure a ticket for the same day. However, I highly recommend purchasing tickets early during the high season, as seats can sell out quickly.
I booked a ticket for a 6-bed-couchette. Find out more about the night train from Istanbul to Sofia.
After obtaining my ticket, I returned to my accommodation, packed my belongings, and grabbed some supplies for the journey. The train began its journey promptly at 20:00, departing from Istanbul station and heading towards Sofia, Bulgaria.
And so, my train journey through Turkey comes to an end.