Morocco by Train
Trains - Tickets - Routes
A Travel Guide For Train Travel In Morocco
Here you will find information for Morocco about trains, routes, tours, connections, where to buy train tickets, and more.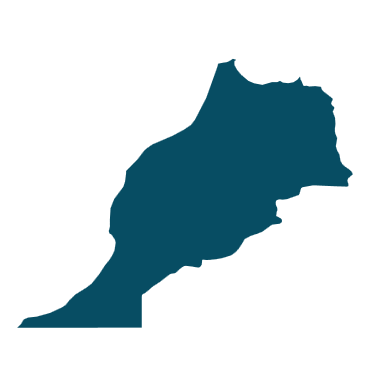 Useful Information
Population: 35.74 million
Currency: Dirham

Language: Arabic
Capital: Rabat
Country Code: +20
Time Zone: West European Time

The rail network in Morocco is operated by the Office National des Chemins de Fer (ONCF).

Buy your train tickets for Morocco online at ONCF-Voyages.
Buy your train tickets online at OMIO and compare trains, buses & flights.
There are multi-day rail passes available for Morocco for different amounts of days and with discounts for different ages. 
There is a 7-day, 15-day, and 30-day rail pass available (2nd class: Dh600, 1170, 2100 and 1st class, Dh900, 1600, 3150). Discounts are available for travelers under 26 and children. 
These rail passes need to be purchased at the train station.
Al Atlas is the classic long-distance train in Morocco.
1st Class with 6 seat compartment
2nd Class with 8 seat compartment
Air conditioning
Refreshment trolley with tea, coffee, drinks, and snacks
Reservations are included in 1st; however, it's not possible to reserve a seat in 2nd Class
Al Boraq is the first high-speed train in Africa and runs from Tangier to Rabat to Casablanca.
1st and 2nd Class
Café, drinks, and snacks are offered in the bar car
There are some night trains in Morocco on the following routes:
Marrakech – Tangier
Casablanca – Oujda
Casablanca – Nador
Tangier – Nador
1st Class, 6 seats (3+3 opposite from one another)
2nd Class, 8 seats (4+4 opposite from one another)
Sleeper car with compartments or couchette
Reservation included in the 1st Class ticket. Reservations are required for sleeper cars.
Frequently Travelled Routes In Morocco
National
 

| | | | |
| --- | --- | --- | --- |
| From > To | Duration (h) | Changes | Transport |
| Marrakesh to Fez | 6:35 | Direct | Train |
| Marrakesh to Tangier | 5:50 | 1 | Train |
| Marrakesh to Meknes | 5:52 | Direct | Train |
| Casablanca to Fes | 3:48 | Direct | Train |
| Casablanca to Tangier | 2:10 | Direct | Train |
| Casablanca to Oued Zem | 3:29 | Direct | Train |
| Tangier to Oujda | 10:30 | Direct | Train |
| Tangier to Taourirt | 9:31 | 1 | Train |
International
 

| | | | |
| --- | --- | --- | --- |
| From > To | Duration (h) | Changes | Transport |
| Tangier to Tarifa, Spain | 1 | Direct | Ferry |
| Tangier to Barcelona, Spain | 12:43 | 3 | Ferry, Bus & Train |
| Nador to Almeira, Spain | 3:00 | Direct | Ferry |
| Nator to Montpellier, France | 40:19 | 2 | Ferry, Bus & Train |
Casablanca Casa Voyageurs Station
Casablanca Casa Port Station
Marrakesh Railway Station
Rabat Ville Train Station
Tanger Ville Train Station
Best Time To Travel To Morocco
We recommend visiting Morocco anytime from March to June or from September to November for the most ideal weather. From June to September there will be scorching heat the closer you get to the Sahara desert, and sandstorms are common in April.
Maybe mountains don't particularly come to mind when you think of Morocco but we don't want you to forget they are there! March to November are the best months to go hiking in the Atlas mountains. If visiting during Ramadan, which lasts 30 days, you may run the risk of some towns and places being shut down; however, most big cities are still in full operation.
Before leaving Morocco, make sure to check out the stunning Todra Gorge (in the morning, for the best lighting and fewer tourists), watch the surfers, or schedule yourself a lesson in Taghazout, or stop and smell the roses at the Kalaat Mgouna Rose Festival.
High Season: November – March
Low Season: May – September
Accommodations In Morocco
Booking
The best place to find cheap hotels for is to book by www.booking.com. There you will find a large selection of cheap hotels, hostels, and apartments. > BOOK HERE
Hostelworld
If you are looking for a low budget accommodation, then go on www.hostelworld.com. They have the best choice of cheap hostels for backpackers and low budget travelers. > BOOK HERE
Travel with a guidebook ease your journey to find best sights and things to do. Buy it on Amazon.