China by Train
Trains - Tickets - Tours
A Travel Guide For Train Travel In China.
Here you will find information for China about trains, routes, tours, connections, where to buy train tickets, and more.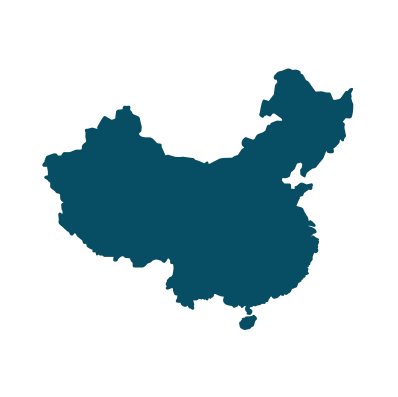 Useful Information
Population: 1.368 billion
Currency: Chinese Yuan

Language: Mandarin

Capital: Beijing
Country Code: +86
Time Zone: China Standard Time (CST)

The trains in China are operated by the Chinese State Railway.

Buy your cheap train tickets for China online at Trip.com.

Buy your train tickets for China online at KLOOK.
There are no rail passes available for China.
G-trains (Gaotie) and D-trains (Dongche) are high-speed trains that connect major cities in China and run up to 200-300 km/h.
Trains are equipped with air-conditioned coaches and three different classes. Most of the long-distance trains have a restaurant car and offer drinks and snacks. There are Chinese toilets and western toilets as well.
1st & 2nd Class
Business Class
Premium or Superior Class
T-trains (Tekuai) and K trains (Kuaisu) are normal fast trains.
Fuxing High-Speed train connects large metropolises in China to Hong Kong.
3 Classes offered: all seats are equipped with power sockets.

2nd Class: Rows of five seats (3+2)
1st Class: Rows of four seats (2+2)
Business: Rows of three seats (2+2), seat fully reclines to a bed, pillow and blanket are provided, ticket includes unlimited beverages, one complimentary hot meal, and a complimentary snack

The train is equipped with toilets, a café counter where snacks, beverages, and microwavable meals are available (only Chinese Yuan accepted). There is a boiling water dispenser in every carriage for tea, coffee, noodles, etc. It is allowed to bring food on-board.
Trans-Siberian Railway connects Beijing to Mongolia as well as Russia. See Trans-Sib page for more details.
Ürümqi to Amalty and Nur-Sultan, Kazakhstan: are connected by rail two times a week.
Sleeping Carriages:

2 and 4-berth sleeper are available in Kazak carriages
Open plan bunks and 4-berth air-conditioned soft sleepers are available in Chinese carriages

A restaurant car is available
Z trains (Zhida) are high-quality sleeper trains with modern air-conditioned coaches.
Classes:
Hard sleeper: Open car with bunk beds
Soft sleeper: 4-berth compartments
Deluxe soft sleeper: 2-berth compartments with a toilet
Zarengold
Imperial Russia
Frequently Travelled Routes In China
National
 

| | | | |
| --- | --- | --- | --- |
| From > To | Duration (h) | Changes | Transport |
| Beijing to Shanghai | 4:29 | Direct | Train |
| Beijing to Xian | 4:19 | Direct | Train |
| Beijing to Chengdu | 7:45 | Direct | Train |
| Beijing to Guangzhou | 9:21 | Direct | Train |
| Beijing to Shenyang | 3:45 | Direct | Train |
| Beijing to Harbin | 8:25 | Direct | Train |
| Shanghai to Nanjing | 3:25 | Direct | Train |
| Shanghai to Xiamen | 5:17 | Direct | Train |
| Xian to Zhangjiajie | 10:02 | 2 | Train |
| Guangzhou to Guilin | 3:02 | Direct | Train |
International
 

| | | | |
| --- | --- | --- | --- |
| From > To | Duration (h) | Changes | Transport |
| Beijing to Ulan Bator, Mongolia | 28:41 | Direct | Train (Trans-Mongolian Railway) |
| Beijing to Hong Kong | 11:27 | 1 | Train |
| Shanghai to Hong Kong | 9:20 | 2 | Train |
| Nanning to Hanoi, Vietnam | 12:25 | Direct | Train |
| Harbin to Chita, Russia | 29:48 | Direct | Train (Trans-Manchurian Railway) |
| Ürümqi to Nur-Sultan, Kazakhstan | 29:00 | 3 | Train & Car |
| Dalian to Incheon, South Korea | 16:11 | Direct | Ferry |
Beijing
Shanghai
Shenyang
Harbin
Xian
Guangzhou
Kunming
Chongqing
Nanning
Best Time To Travel To China
As China is a large country, it comes with a variety of weather patterns and the best times to visit throughout the year. There are continental, subtropical, and tropical climates throughout the country with most rain falling between June and September. We recommend however to travel in China's spring and fall seasons, April and May, and September and October. Most of the country has pleasant weather during this time, less rain, cooler temperatures, and minimal humidity unlike in the dead of summer. In the springtime you will be able to see the country blooming and in the fall, changing colors.
Like we said China is a big country and maybe overwhelming with all of its choices however, we want to take it sight by sight, station by station with you. China is known for its crowded, busy cities and also its outstanding nature, and you can definitely experience these both! For must-visit strikingly large metropolises, check out Shanghai, Beijing, and Guangzhao, and for slightly smaller cities visit Xi-an, Harbin, Suzhou, Hangzhou, Guilin, and Lhasa.
For the brave at heart, look into the Haohan Qiao "Brave Man's Bridge," the mile steep hike up Huashan Mountain, or the glass cracking East Taihang Glasswalk… but if you're happier staying on the ground we don't blame you. Head to the Huanglong Travertine Pools to find stunning colorful calcite terraces and to the Badain Jaran Desert to hear the dunes sing (the most singing occurs in the summer). The Tian Sian Mountains will make you think you're on the set of Avatar, and a visit to the Zhangye National Geopark may have you question geology.
With so many options you'll be spoilt for choice, but try not to leave the country without having seen the classics that everybody should see on their visit to China such as the Forbidden City and the Terracotta Army, but did you know you can spice up your visit to the most iconic attraction in China? Not only can you take that walk you've always wanted to on the Great Wall of China, but you can descend by the toboggan slide on the Mutianyu section where you will have more memorable views of the Wall than if you descended by cable car!
High Season: July, August, and in January during Chinese New Year (also known as the Chinese Spring Festival)

Low Season: November to May, omitting the time in January during the Chinese New Year

Rainy Season: June to September
Booking
The best place to find cheap hotels for is to book by www.booking.com. There you will find a large selection of cheap hotels, hostels, and apartments. > BOOK HERE
Hostelworld
If you are looking for a low budget accommodation, then go on www.hostelworld.com. They have the best choice of cheap hostels for backpackers and low budget travelers. > BOOK HERE
Travel with a guidebook ease your journey to find best sights and things to do. Buy it on Amazon.