Brazil by Train
Trains - Tickets - Tours
A Travel Guide For Train Travel In Brazil.
Here you will find information for Brazil about trains, routes, tours, connections, where to buy train tickets and more.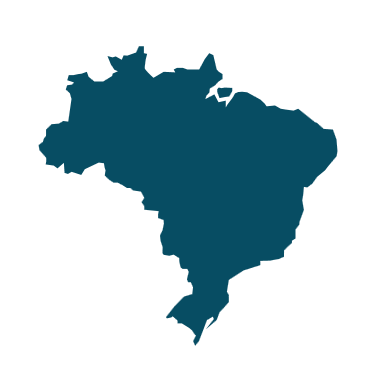 Useful Information
Population: 209.3 million
Currency: Real

Language: Portugese

Capital: Brasilia

Country Code: +55
Time Zone: Brasilia Time

The trains in Brazil are operated by several private companies, such as Companhia Paulista de Trens Metropolitanos and SuperVia.
Check timetables and buy your train tickets for Brazil online at Vale.com
There are no rail passes available for Brazil.
Urban Metro serves the communities of Rio de Janeiro and Sao Paulo.
Commuter Trains connect small towns and cities to larger metropolises.
Serra Verde Express
Great Brazil Express
Steam trains are known as Maria Fumaca:
Maria Fumaca via Bento Gonçalves, Garibaldi and Carlos Barbosa

Maria Fumaca from Tiradentes to São João del Rei 

Maria Fumaca from Ouro Preto to Mariana – book through local train company Vale
Frequently Travelled Routes In Brazil
National
 

| | | | |
| --- | --- | --- | --- |
| From > To | Duration (h) | Changes | Transport |
| Belo Horizonte to Vitoria | 13:10 | Direct | Train |
| Parauapebas to São Luís | 16:00 | Direct | Train |
| Rio de Janeiro to Morretes | 21:55 | 2 | Bus & Train |
| Curitiba to Morretes | 4:15 | Direct | Train |
| Rio de Janeiro to Brasilia | 17:40 | Direct | Bus |
| Rio de Janeiro to Sao Paulo | 6:30 | Direct | Bus |
Vitória
Belo Horizonte
São Luís
Parauapebas
Best Time To Travel To Brazil
Known for its colorful Carnival, sandy beaches, and its biodiversity in the Amazon, Brazil is a year-round destination. Summer runs from December to March with the country's warmest temperatures and the most rainfall, while winter runs from May to September. Brazil's winters are tropical but still cooler and not as humid as the country's summers, therefore, a perfect time for outdoor activities. Winter is also the best time for nature spotting, from May to September you'll have chances to see dolphins, whales, birds, even jaguars! Summer is great for surfing, laying one of the hundreds of beaches (Copacabana, Porto de Galinhas, Maracaípe, Ponta de Mongue), climbing, abseiling, parasailing, windsurfing (best conditions are from November to February), and much more.
You may wonder, what's there to do outside of Rio de Janeiro? Well first off there is plenty to do in Rio and the surrounding area, but there is also so much to discover outside of this metropolis. Look into Mount Roraima and Iguazu Falls which both bordering Venezuela for amazing natural sights, take an eco-friendly tour into the Amazon, go diving in Fernando de Noronha, chase after waterfalls in the Serra do Cipó National Park, or hike the Canyon Itaiambésinho. We are just scratching the surface here, so trust us there's more to this country than meets the eye.
High Season: December to March

Low Season

: June to August

Rainy Season: December to March
Booking
The best place to find cheap hotels for is to book by www.booking.com. There you will find a large selection of cheap hotels, hostels, and apartments. > BOOK HERE
Hostelworld
If you are looking for a low budget accommodation, then go on www.hostelworld.com. They have the best choice of cheap hostels for backpackers and low budget travelers. > BOOK HERE
Travel with a guidebook ease your journey to find best sights and things to do. Buy it on Amazon.