Hong Kong by Train
Trains - Tickets - Tours
A Travel Guide For Train Travel In Hong Kong.
Here you will find information for Hong Kong about trains, routes, tours, connections, where to buy train tickets and more.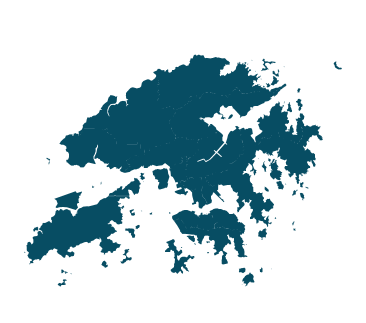 Useful Information
Population: 7.39 million
Currency: Hong Kong Dollar

Language: Cantonese, Mandarin, English

Capital: Hong Kong

Country Code: +852
Time Zone: Hong Kong Time

The trains in Hong Kong are operated by Mass Transit Railway (MRT).

You can buy your train tickets for the Metro System in Hong Kong at the Station. Buy a Octopus Card and transfer money on it to use it for all transports in Hong Kong.
There are no rail passes available for Hong Kong.
MRT operates an underground metro system, an overland train network, and a light rail throughout Hong Kong.
Tickets are bought and credited with an Octopus card*
No reservations required
* Buy one of these if you plan on using the MRT
Fuxing High-Speed train connects Hong Kong to large metropolises in China
3 Classes offered: all seats are equipped with power sockets.

2nd Class: Rows of five seats (3+2)
1st Class: Rows of four seats (2+2)
Business: Rows of three seats (2+2), seat fully reclines to a bed, pillow and blanket are provided, ticket includes unlimited beverages, one complimentary hot meal, and a complimentary snack

The train is equipped with toilets, a café counter where snacks, beverages, and microwavable meals are available (only Chinese Yuan accepted). There is a boiling water dispenser in every carriage for tea, coffee, noodles, etc. It is allowed to bring food on-board.
Beijing – Hong Kong Through Train (Intercity Sleeper) connects the two metropolises in a day's time.
Sleeping Carriages:

4 Berth Hard Sleeper
4 Berth Soft Sleeper
Deluxe 2 Berth Soft Sleeper: with personal toilet

The train is equipped with a restaurant car that serves hot meals during meal hours, and snacks outside of meal hours. A snack trolley visits each carriage regularly throughout the journey (only Chinese Yuan, RMB accepted).
Operational Friday through Monday
Book in advance, as it's a very popular route due to the fact it is the most cost-effective way to travel to Beijing from Hong Kong.
High-Speed Sleeper Train connects Hong Kong via Guangzhou South Station, to Beijing in a timely manner.
From Hong Kong to Guangzhou South, a 1-hour journey, 1st, 2nd, and Business Class are offered.
From Guangzhou South*, 2nd Class Seats and 1st Class Soft Sleepers (capsule like single beds) are available.
* The overnight High-Speed Sleeper from Guangzhou to Beijing is only operational Friday through Monday
Frequently Travelled Routes In Hong Kong

National
 

| | | | |
| --- | --- | --- | --- |
| From > To | Duration (h) | Changes | Transport |
| HK Central to Kowloon | 0:03 | Direct | Train |
| HK Central to Tung Chung | 0:43 | Direct | Train |
| HK Airport to Mong Kok | 0:26 | Direct | Train |
International
 

| | | | |
| --- | --- | --- | --- |
| From > To | Duration (h) | Changes | Transport |
| Hong Kong to Shenzhen, China | 0:14 | Direct | Train |
| Hong Kong to Shanghai, China | 8:52 | 2 | Train |
| Hong Kong to Beijing, China | 9:53 | 1 | Train |
| Hong Kong to Hanoi, Vietnam | 18:54 | 3 | Train |
| Hong Kong to Macao | 0:55 | Direct | Ferry |
Hong Kong Central
Kowloon
North Point
Lohas Park
Tung Chuung
Best Time To Travel To Hong Kong
As Hong Kong is a year-round destination, we recommend visiting anytime but would recommend avoiding the typhoon rainy season if possible. In such a densely packed area, there is plenty to do and see in Hong Kong! There are islands to visit, cable cars to take to large Buddhas and monasteries, and lots of shopping to do.
If you're interested in roller coasters, you can't forget the iconic Disneyland and to see a stunning view of the city, take the funicular up to Victoria Peak. Lan Kwai Fong (LKF) is buzzing with nightlife Thursday through Saturday, and also has plenty of street food vendors to choose from. Notable foods to get your hands on to try whilst in Hong Kong are har gow (steamed shrimp dumplings), snake soup, ngau lam mein (beef brisket noodles), and pineapple bread.
High Season: There is no particular high season; however, it is quite busy during October during the trade fairs and February during the Chinese New Year

Low Season: There is no particular low season

Rainy Season: June to September
Accommodation In Hong Kong

Booking
The best place to find cheap hotels for is to book by www.booking.com. There you will find a large selection of cheap hotels, hostels, and apartments. > BOOK HERE
Hostelworld
If you are looking for a low budget accommodation, then go on www.hostelworld.com. They have the best choice of cheap hostels for backpackers and low budget travelers. > BOOK HERE
Travel with a guidebook ease your journey to find best sights and things to do. Buy it on Amazon.