Ethiopia by- Train
Trains - Tickets - Routes
A Travel Guide For Train Travel In Ethiopia.
Here you will find information for Ethiopia about trains, routes, tours, connections, where to buy train tickets, and more.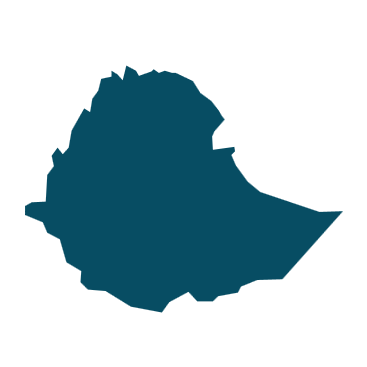 Useful Information
Population: 109.2 million
Currency: Ethiopian Birr

Language: Amharic

Capital: Addis Abeba

Country code: +251
Time zone: Eastern Africa Time

The rail network in Ethiopia is operated by the state owned enterprise – Ethiopian Railway Corporation (ERC).

Train tickets cannot be bought online for Ethiopia, however, tickets can be bought at the station or at the city center offices. Buy your tickets at least 17 hours before departure. Tickets to Djibouti City, Djibouti must be bought at least 1 day before departure.
There are no rail passes available for Ethiopia.
There is a train line between Addis Ababa and Djibouti with stops in Adama, Diré Dawa, and Ali Sabieh.
Hard seats
Restaurant car
Frequently Travelled Routes In Ethiopia
National
 

| | | | |
| --- | --- | --- | --- |
| From > To | Duration (h) | Changes | Transport |
| Addis Ababa to Dire Dawa | 10:16 | Direct | Train |
International
 

| | | | |
| --- | --- | --- | --- |
| From > To | Duration (h) | Changes | Transport |
| Addis Ababa to Djibouti City, Djibouti | 15:25 | Direct | Train |
Best Time To Travel To Ethiopia

We recommend traveling to Ethiopia anytime during the dry season which is also considered to be the tourist season due to the better weather throughout the country. As Ethiopia has several different climates, the weather may differ slightly where you are in the country. Ethiopia is a country full of plenty of landscapes and plenty of surprises. The food is tasty and the nature is great!
Visiting for a safari? The best time for that is during the dry season where it's easier to spot the animals. As for amazing landscapes, the Danakil Depression is best visited during cooler temperatures, from November to March. The Awash National Park and Simien Mountains National Park can be visited year-round and so can the Northern Highlands to see the rock churches, but are best visited during the dry season. 
Dry Season: September to May
Rainy Season: June to August
High Season: September to January
Accommodation In Ethiopia
Booking
The best place to find cheap hotels for is to book by www.booking.com. There you will find a large selection of cheap hotels, hostels, and apartments. > BOOK HERE
Hostelworld
If you are looking for a low budget accommodation, then go on www.hostelworld.com. They have the best choice of cheap hostels for backpackers and low budget travelers. > BOOK HERE
Travel with a guidebook ease your journey to find best sights and things to do. Buy it on Amazon.