Cuba by Train
Trains - Tickets - Tours
A Travel Guide For Train Travel In Cuba.
Here you will find information for Cuba about trains, routes, tours, connections, where to buy train tickets and more.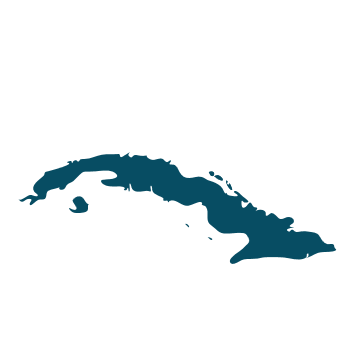 Useful Information
Population: 11.48 million
Currency: Cuban Convertible Peso

Language: Spanish

Capital: Havana

Country code: +53
Time zone: Eastern Time Zone

The rail network in Cuba is operated by the national railway company of Cuba Ferrocarriles de Cuba (FCC).
There is no option to book train tickets for Cuba online. Tickets are sold by a travel agency called Viajero. They have offices all over Cuba and at most major rail stations. Tickets for the new Chinese-built trains are available 30 days in advance, and for all other trains, 5 days in advance.
There are no rail passes available for Cuba.
Regular Trains run long and medium distances. Most of the trains are air-conditioned and offer service and a buffet on board.
Fast Train links Havana and Santiago with stops in Santa Clara and Camagüey.
Special 1st class and 1st class are offered
Air-conditioning
Cafeteria car
New-Chinese Built Trains 
2nd class with opening windows and ceiling fans, 2+2 seats
1st class with air-conditioning, 2+2 seats
Cafeteria car
Toilets
Drinking fountain
Frequently Travelled Routes In Cuba
National
 

| | | | |
| --- | --- | --- | --- |
| From > To | Duration (h) | Changes | Transport |
| Havana to Santiago de Cuba | 1:50 | Direct | Train |
| Havana to Cienfuegos | 6:14 | Direct | Train |
| Havana to Santa Clara | 5:53 | Direct | Train |
| Havana to Camaguey | 11:24 | Direct | Train |
| Cienfuegos to Santiago de Cuba | 14:07 | 1 | Train |
| Santa Clara to Camaguey | 6:02 | Direct | Train |
Havana
Santa Clara
Cienfuegos
Santiago de Cuba
Best Time To Travel To Cuba

We recommend visiting Cuba during the dry season from November to April due to the low chance of rain and comfortable temperatures; however, the wet season is also an option as the rain showers are quick downpours and don't last the whole day. Cuba is famed for its pristine beaches, world-class diving, cigars, and picture-perfect colorful colonial towns. There's plenty to enjoy in Cuba and you'll see first hand the locals know how to enjoy their lives here too! The Cubans love to host festivals and celebrations such as the Cuban Cigar Festival, Fiesta del Caribe Santiago de Cuba, Carnival in Santiago, New Year, Easter, and Fiesta del Fuego just to skim the surface. 
Enjoy hiking in Parque Nacional Alejandro de Humboldt,  snorkeling on the coast, catch the monarch butterfly migration or simply soak up the culture from your stroll through Havana, Santiago, or any other town you visit. Cuba won't disappoint!
Dry Season: November to April
Wet Season: May to September
Busy Season: Mid-December to March, July, August
Booking
The best place to find cheap hotels for is to book by www.booking.com. There you will find a large selection of cheap hotels, hostels, and apartments. > BOOK HERE
Hostelworld
If you are looking for a low budget accommodation, then go on www.hostelworld.com. They have the best choice of cheap hostels for backpackers and low budget travelers. > BOOK HERE
Travel with a guidebook ease your journey to find best sights and things to do. Buy it on Amazon.